The Keynsham Union Workhouse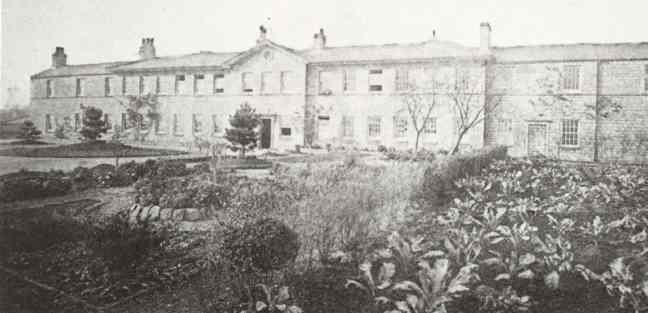 Members of several of our Bitton families lived, died, or sought assistance at the Keynsham Union Workhouse
which opened in 1837.
The Poor Law Amendment Act of 1834 gave the Poor Law Commission the power to unite parishes in England and Wales into Poor Law Unions, each administered by a local Board of Guardians. Under the Act, relief was only to be given to able-bodied paupers through the workhouse.
The Keynsham Poor Law Union was formed on 29th March 1836, and covered the following parishes.
In Somerset:
Brislington, Burnett, Compton Dando, Corston, Kelston, Keynsham, Marksbury, Newton St Loe, North Stoke, Priston, Queen Charlton, Saltford, Stanton Prior, Whitchurch.
In Gloucestershire:
Bitton, Hanham, Mangotsfield, Oldland, Siston.
(In 1894 Hanham Abbots and Kingswood were also added to the Union.)
Work soon commenced on the new Keynsham Union Workhouse which was built 1836-37. The building is currently Keynsham Hospital.
Somerset Archive and Record Office holds records relating to Keynsham Union Workhouse, including:
Admissions and discharges (1836-1930, with gaps)
Births (1836-90)
Baptisms (1890-1915)
Creed register (1869-1933)
Offences and punishment book (1838-95)
Guardians' minute books (1837-1930)
and also some Expenditure Accounts and Vaccination Returns.
More details on this and other Workhouses can be found on Peter Higginbotham's website on Workhouses in England, Wales, Scotland, and Ireland. See our Links page for details.
We'd welcome any thoughts for expanding this section of the site and invite your participation as we go forward.
Please
Contact Us
with comments, additions, corrections, submissions or suggestions.
Back to top of page