The Kingswood area
Originally Kingswood Forest or "the King's Wood", Kingswood covers a large area between Bristol and Bitton.
There were many coal mines in the Kingswood area, and the Kingswood miners were some of John Wesley's earliest congregations.
See our links page for "Bristol Past", the website of the Fishponds LHS, which has further information on Kingswood Forest, and a large version of the Kingswood 1610 map.
This page is under construction so please check back.
Please
Contact Us
with comments, additions, corrections, submissions or suggestions.

Part of the Map of Kingswood, 1610, showing Windmill Hill and Barrs Court.

From A. Braine's "The History of Kingswood Forest:
Including all the Ancient Manors and Villages in the Neighbourhood" (1891)
(Courtesy of Clare, complete with old stickytape repairs)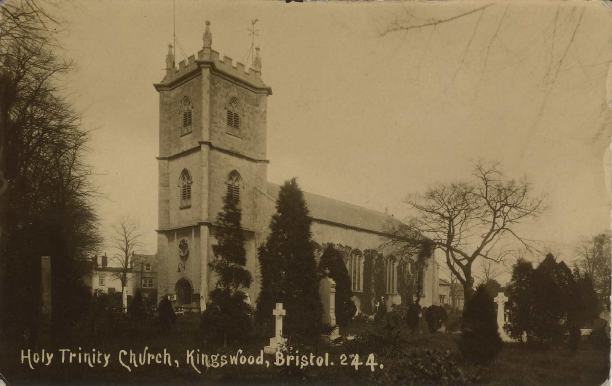 Postcard of Holy Trinity Church, Kingswood. Courtesy of Clare

In 1821 Holy Trinity, Kingswood was the first church in the country built with a grant from Queen Anne's bounty.
Part of its parish was carved out of the parish of Oldland and it covered the whole district of Kingswood, which included Hanham.
Back to top of page