Dyrham & Hinton, St. Peter's Church


The church of St. Peter's is in Dyrham Park (National Trust Property), the former estate of William Blathwayt (abt 1649 - 1717; Secretary of State/War under King William). Other sites have information re Dyrham, so please visit our Links page for direct connections to some of them.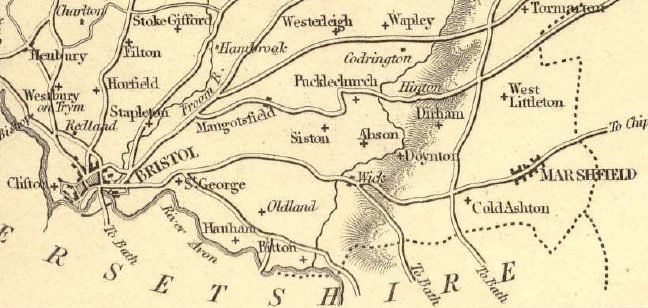 Part of Gloucestershire from Samuel Lewis' Topographical Dictionary, c. 1835,
showing "Dirham" and Hinton. Map courtesy of Clare.
Many of the estate papers of the Blathwayt family have been preserved and are available at the Gloucestershire Records Office. Per a CD about the estate ("Dyrham Park," by the National Trust, 2000; sold at the local shop; not found online), most of the papers were sold by the family in the early 1900s. Beyond the GRO, papers may be found at: "the British Museum; library of Congress, Washington, DC; Huntington Library, California." Further, the house/estate at Dyrham Park has "additional documents that are not on their (GRO) catalogue."

We hope you find the items we're including from Dyrham of interest.

Please Contact Us with comments, additions, corrections, submissions or suggestions.