The Spelter Works at Hanham

by Reg Harris
In March 1769 CHAMPION's works at Warmley were offered for sale and, soon afterwards, purchased by The Bristol Brass & Copper Co.
There was an interesting offshoot from this company. James EMERSON, who for many years had managed the zinc manufactory connected with the Warmley Works both for Champion and the Bristol Company, founded a spelter works at Hanham, near Bristol, about 1779, when he was aged about 40. These works were situated in an old quarry on the north bank of the Avon. He moved his residence to Hanham Abbots where, certainly from 1791 to 1799, he was a principle inhabitant and regularly attended the annual meeting of the church wardens at St. Georges chapel to order the affairs of the parish.
The Bristol Brass Co. resented his having left their service and were determined to try to stop him becoming a competitor; they lowered their price for spelter from £74 to £48 per ton. However, it was Emerson's plan to produce both metalic zinc and with it high quality brass.
According to Emerson, it was necessary to prepare the spelter by melting it in an iron boiler, and then granulating it by running it through holes in a ladle into a tub of cold water. Next a mixture was to be prepared consisting of 54 pounds of copper shot, about 10 pounds calcined calamine ground fine, and about 1 bushel of ground charcoal, and a handful of this was to be put into a casting pot and upon it 3 pounds of sholed or granulated spelter; Then the pot was to he filled up with the mixture of copper shot, calcined calamine, and ground charcoal. Eight other pots were to be filled in the same way, so that 54 pounds of copper shot, 27 pounds of sholed spelter, about 10 pounds of calcined calamine, and about 1 bushel of ground charcoal completed the charge for one furnace, containing 9 pots. It will be noticed that even in this case a small quantity of calamine was used, but, according to Emerson, it was used "more for confining the spelter by its weight, than for the sake of the increase arising from it", and very often it was omitted altogether.
About 1779 this new method was in use at Emerson's works at Hanham, but it was not until well into the nineteenth century that the new method came into general use.
In October 1781 Emerson obtained a patent for his new method of making brass by melting metalic zinc with copper. This patent grant seems to have been justified; for it was said the zinc he produced was "whiter and brighter" than any other, either English or foreign, and that his brass was more malleable. WATSON, an eminent chemist and metallurgist, had declared that the brass produced was "more beautiful, and of a colour more resembling gold than ordinary brass". There was a considerable demand for this special brass, called pinchbeck, among the jewellery workers of Birmingham, while large quantities of the zinc was also exported. It was said to be the purest in the world and more malleable and beautiful than ordinary brass and, being free of particles of iron found in other brasses, was also very suitable for making compasses.
Having obtained brass and copper in the form of ingots, various other processes were employed in manufacturing articles of use; the two fundamental ones, at least until the beginning of the eighteenth century, being "battery" and wiredrawing.
However, in spite of the quality of his brass Emerson, at the age of 64, was declared bankrupt in March 1803 and the works were advertised for sale by auction. Later the site was operated by Philip GEORGE and Christopher POPE of Bristol. Philip George was the eldest son of William George, a distiller, whose younger son, James, was involved in the start of the family brewing business. Philip George had previously been involved in the production of lead shot at Redcliff Hill from September 1794, under the name of The Patent Shot Co., which he had developed into a successful business. Christopher Pope eventually went on to control most of the brass production in the Bristol area. In 1832 he became bankrupt and, by 1844 he was no longer involved as a brass manufacturer.
In 1807 Philip George paid the rates for the relief of the poor "for the cupoloes" at Hencliffe Woods, Hanham. The Hanham Spelter works proved very successful and, in 1838 consisted of four Spelter houses with cones, two calamine houses, one pot room, a mill house for grinding clay, a clay house and a mill house for grinding blackjack, a brass house with four furnaces, a warehouse and pot room with a counting house over, one calamine mill house, a smiths shop, a pump and pumphouse, a charcoal house and a Buddle house.
In 1838 the Hanham Spelter Works were offered for sale by auction and it is probable that it never operated again. What ever remains of it is now covered by the spoil heap of Hanham colliery.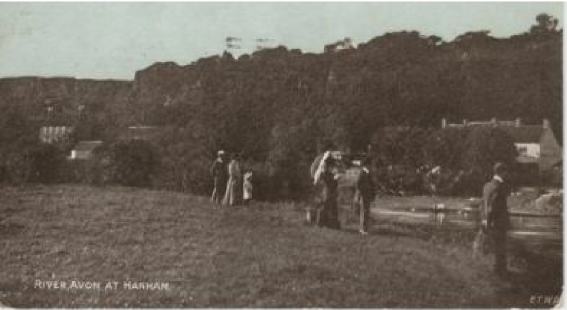 River Avon at Hanham, Old Postcard.


Courtesy of Clare
Back to top of page