Laughing their celestial socks off..!!!
This page has nothing really to do with Bitton, but everything to do with families and family history. It is a collection of stories about the coincidences that keep cropping up once we start researching our ancestors. Do we find them or do they find us ?
Most of these stories are from a thread that developed on the Bristol and Somerset List, when Josephine remarked, after looking up someones ancestors,
"Little did they all think that years and years later people like us would be talking about them! "
This brought a reply of
"Dear Jo, Whatever do you mean - they're all sat up there on their clouds pointing at us rushing around like demented things and laughing their celestial socks off!!!!!!!!!!!!!!!!!!! " (Colin Hunt)
The rest, as they say, is history.
Please
Contact Us
with comments, additions, corrections, submissions or suggestions.
Subject: Laughing their celestial socks off!!!
Hi Colin and Listers,
I often wonder about whether we are led to find our ancestors.
I became involved in family history quite by chance.
After visiting a friend, one mid-week day, I ran down the hill to the bus station because I didn't want to miss my bus. (My legs hurt for days afterwards!) As luck would have it, I had plenty of time when I reached the bottom of the hill, so I popped into the newsagents where I spotted a family history magazine, which looked interesting. Knowing that I was going away for a country weekend in a place where there wouldn't be a television signal, I thought I would buy a copy so that I would have something to do to while away the time.
I didn't open the magazine until the Saturday night and then I gave out such a yell that Ian came running to see what was the matter. I had come across an advertisement from a researcher seeking information about my 2x great-grandmother Charlotte HARRIS (nee NORMAN formerly BAKER). Well, after contacting the third cousin who had placed the advertisement, I was well and truly hooked! :-)

I often wonder, though, if I had walked down the hill instead and not gone into the newsagents, how my life would have gone if I hadn't discovered family history research.
I wouldn't be sitting here 'talking' to all of you, for sure! :-)

Josephine Jeremiah




Subject: RE: Laughing their celestial socks off!!!
My spooky story also makes me wonder about destiny !
I moved to Leicestershire from Bristol some 30 years ago. I live in a small village between Leicester and Hinckley. As I traced my ancestors, they all seemed to come either from Bristol or from Somerset villages just outside Bristol. Although I am an Engineer, it doesn't run in the family - my grandfather and greatgrandfather were both potters.
Imagine my surprise when I found my ggg grandfather in the Bristol 1851 census, saying that he was an Engineer from Hinckley, Leicestershire !
So did I take up engineering and move to Leicestershire under my own free will, or ...
Mike Gould
Subject: The latest "laughing their celestial socks off"
Hi Listers,
How about this for another family history coincidence:
My wife, daughter and I travelled down from Leicester to visit my parents in Bristol this weekend. We decided to do one of the many guided tours of the centre of Bristol and just before 2pm on Saturday, we arrived outside the Tourist Information Centre. The guide arrived and we chatted to her, then two chaps arrived. They were to be the only other people on the tour.
The guide then chatted to them and ask them where they were from and why they were in Bristol. They said that they were from Brighton and had family history in Bristol. The guide asked what names they were interested in, and they replied "Bennett". So I piped in and said that I had Bennett ancestors too. They said that theirs worked on the railways. I said that mine did too. They said that they had a James Bennett who worked on the railways. So did I ! We compared a few names and dates and they said that they had their family history with them. I said I did too, because I have mine on an electronic organiser that I carry around. We agreed to get together after the tour.
Yes, we were indeed related. We both descend from my great great grandparents.
So the only people on the tour that day were not only related, despite the fact that one lot came from Brighton and the other from Leicester, but both were interested in family history, and therefore knew that they were related !
Stop chuckling up there, but thanks for organising it !
Mike Gould
Leicestershire
Subject: Re: Laughing their celestial socks off
Hi Everyone,
I'd like to share a recent discovery with the list, mainly because I am sure everyone here will appreciate what an incredible coincidence it is and how excitied I was when I made the discopvery.
I have been tracing both my own family and that of my husband and have known for some time that we both had convict ancestors and free settler ancestors who lived in Tasmania at around the same time. On our recent trip to Tas [to celebrate our 25th Wedding Anniversary] I was able to confirm that several of our families even lived in the same area and town.
But the biggest surprise was that our two convict families were living on the same property [farm/holding] at exactly the same time. Two of their children were born within a month of each other. These two families must have known one another and worked side by side and chances were they would have been friends.
My husband and I met and live in Queensland, as far north as you can get from Tasmania and had no idea we shared Tasmania ancestors when we met at school. I wonder if it was 'destiny' that brought us together?
Jenny [Bris Aus]
Subject: Laughing their celestial socks off!!!
Had a similar experience to Jenny's when I discovered that one of my mum's ancestors was born in Whitestaunton in 1793, the same year as two of my dad's ancestors were married there, even tho Dad came from leicester, and Mum came from Devon!! Spooky isn't it.
What I also found spooky was that tho born in Leicester, my sister moved 200 miles south to Offwell, and ended up living in the village our ancestors lived in 400 years ago - almost like something was calling her back there. We didn't know about the family connection when she was living there - only found out recently.
Regards,
Maggie in about to thunder Leics
Subject: Re: Laughing their celestial socks off
Hi Jenny,
An amazing story, indeed! I'm a great believer in destiny. I've also noted that, once you start doing family research, the coincidences seem to come thick and fast - I don't know why. My husband and I blame "The Cosmic Joker"!

An example: a few weeks ago I shelled out a few quid to download half a dozen 1901 census pages for some of my HEMBURYs. The last of these was for my great grandfather's sister, Elizabeth HEMBURY (b. 1878, Wedmore) - I quickly found that in 1901 she was a servant, living and working at 1, Atlantic Terrace East, Weston Super Mare.

Having jotted this down (and having exhausted my finances for the evening) I was thinking of looking at some of my Scottish research. However, flicking through some folders, I was distracted as I dislodged my loose-leaf file for Ann WRIDE. She was a distant cousin, born in 1856 at South Brent, Somerset, and instead I decided I may as well have another go at finding her - she'd had four or five brothers and sisters and I'd managed to discover what had happened to all of them; only Ann still eluded me - I couldn't even find her on the 1881 census. I didn't know if she'd died, married, emigrated... Anyway, I was thoroughly bored, so I thought I'd re-search the 1881 census, but this time simply under "Ann", no surname (in case she'd married and changed it), born 1856 +/-5 years, born Somerset. I didn't expect to find her, to be honest. There were hundreds of results, but I looked through them, page after page after page, hoping...

Eventually I saw "Ann WRIDGE, born 1856, South Brent". Great - I'd found her (misspelt) at long last, and after over a year of looking. Idly, I turned to the "Household" page, to get her address details etc. I nearly choked. She was living at...... 1, Atlantic Terrace East, Weston Super Mare. Working as a servant. Different head of household after all this time, but same address. It wasn't just the fact that these two women were living and working at the same place, 20 years apart; it was also the fact that I'd "researched" for them on that same night, one directly after the other. Wonder if 1, Atlantic Terrace East, Weston Super Mare still exists? Perhaps I should drive over there and have a look!

Cheers,
Sue, aka Spooky of Somerset ;-)
(Susan Hembury Kellow)
Subject: Re: Laughing their celestial socks off
Hi Jenny
It struck a chord when you wrote this !
"But the biggest surprise was that our two convict families were living on the same property [farm/holding] at exactly the same time. Two of their children were born within a month of each other. These two families must have known one another and worked side by side and chances were they would have been friends.'
My husband and I were born in Bristol in the late 1950s about three weeks and two miles apart but on researching our ancestors I have found them happily living in Bishopswearmouth in the 1850s almost side by side - I thought it rather spooky at the time !!
All the best
Deb
Subject: Laughing at us
I have always had fun telling people over the years how my wife and I were "made" for each other. We were born on the same day, in the same year, within an hour of each other. She was born in a town called Ethelbert, while I was born on a street called Ethelbert. Both our dads were in the Air Force at the time and both married in the same year. At the end of the war they moved to the same town and we ended up living within a block of each other. We went to the same school, were in the same classrooms to the day we graduated and have been together as a couple since GRADE NINE.
However, when I started with Genealogy, I made the even more amazing discovery that our ancestors in the 1830s one time lived within ten miles of each other near Taunton!
Who says we weren't "made for each other?"
Gord Wickenden, Kanata, [Grin]
Subject: Re: Laughing their celestial socks off
The spookiest coincidence that happened to me was late 2002. My gg gran was Emma Lawrence (a Kent girl) & on FreeBMD I'd found a death for someone of that name, right age & area, so I just made a note & left it on my desk. Christmas & New year came & went, & then one day in February last year, I decided I'd send off for the death cert on the off chance that it was the right person.
Well, you could have blown me down with a feather - no mean feat cos I'm a big girl - but when I got the cert back, I'd actually applied for it 17 Feb which was the date Emma had died 103 years earlier. I received it back on the exact day her death was actually registered.
Makes me wonder what it was that made me apply for it then, 2 months or so after I'd found it & left it lying on my desk with a load of other odds & ends Maybe some family member is looking after those of us who are doing our trees & are guiding us in the right direction. Who knows ?
Pat.xxx :o))
A Maid of Kent, UK.
Subject: Re: LAUGHING THEIR CELESTIAL SOCKS OFF!!!
Hi folks, here's my contribution to the Happy Coincidences thread.
One of the first facts that we 'colonials' try to find is the names of the ships on which our ancestors sailed.
New Zealand death certificates are a mine of useful information, and one of the columns is 'How long in NZ?' I had at last identified my mother's maternal grandmother as Jane Elizabeth VICKERY and that she had arrived in 1866, aged 15. I emailed the Auckland Public Library with the request to look up their index to identify the ship.
(Their arrivals database is now on line - see http://www.aucklandlibrary.co.nz/general.aspx?ct=151&id=2790 brilliant page with lots of databases ).
Back came the reply, that a Jane, Rose and Thomas Vickery had arrived on the 'Queen of the North' in June 1866. The library assistant added - By coincidence, I received another enquiry in the mail today about the same family on the same ship. Would you like me to pass on your address to the other person? - Would I???!!! To cut a long and happy story short, the 'other person' was a descendant of Jane's sister Rose. This cousin in NZ had been trying to find descendants of Jane for a decade. I hadn't even known of Rose's existence.
Now what are the odds of two third cousins, in different countries, asking the same librarian about the same family and the same ship arrival on the same day 135 years after the event? And having him take the trouble to link them together!
The death certificates for Jane in 1923 and Rose in 1931 both gave their birthplace as 'Devon'. I eventually found they were both born in Southwark, London, and to different mothers, both of whom had died very young and each leaving one infant daughter. Their father William Vickery was from Stawley, Somerset. I traced both marriages, and Rose's mother's death in Southwark. I hunted in vain for the death of my Jane's mother Elizabeth, which had to be in 1851-53. They had been in Southwark at the 1851 census. But somehow I had missed one death index reference, and the other 7 Elizabeth Vickerys all over England who died in that period of course proved to be wrong.
On 25th June last year, a glorious summer day on my visit to England, I was taken to visit Stawley, in a remote corner near the Devon border, described to me by a local as 'a parish which consisted of 6 scattered farmhouses and a 1000 year old church!' I spent some time in the lovely little ancient church and the churchyard, though I found no Vickery graves. That was in 2003. Some months later, I eventually found Elizabeth's death index, and discovered that she had not died in London at all, but in Stawley, on 25th June 1852, so my visit had been on the 151st anniversary of her death. She was 22, and died of 'lung disease'.
I like to think that perhaps William, her husband, might have hoped that his mother, and the clean air of Somerset, might make his young wife well. He went back to London, and after his second wife, Eliza DAVEY of Bampton, Devon, had died in Southwark, and William married in London for the third time, he and his new wife left within the month for New Zealand - he'd obviously had enough of London! He left his little girls with their grandparents in Stawley and Bampton for the next 9 years - until they arrived to join him in Auckland on the Queen of the North.
Lee Paltridge
Perth Oz

The Somerset - Devon border showing Bampton and Stawley


From Lewis' Topographical Dictionary, circa. 1835, courtesy of Clare
Subject: Great stories!
Dear Clare
Thanks for all the great stories. I particularly like the one about the two cousins asking about the same ship! Something similar happened in my search for dad's great grandmother.
Dad's great grandmother was born in Barbados. I wrote to the Archives there. A week or two after l had written, my 3rd cousin Anne called at the office in Barbados. She had been out the previous year but the office was closed, redecoration l think. She asked about Sarah Wilhelmina Western and the guy there told her someone else had been enquiring about her. He got my note and gave Anne my address. Strange how things work out because if the office had been open during her visit the previous year we would never have linked up!
Cathy Logan
Subject: Re: LAUGHING THEIR CELESTIAL SOCKS OFF!!!
About three years ago my wife and I took a trip to Honington in South Warwickshire, the ancestral village of my wife's paternal BATCHELOR family. We had a good look round this lovely village but unfortunately the Church was not open. We knew that that the Church Register, old though it was, was still in use at the Church so we found out the telephone number of the Church secretary and rang her when we got back home. She turned out to be a 92 year old and when I told her that we were researching the BATCHELOR family she said, " Oh, my mother bought a house off of the BATCHELORs and I knew them well". She was able to send me three A4 sheets of entries for the BATCHELORs in the Church Register.
Anyway that coincidence was quite mild compared to what happened in the following Spring. We arranged to meet the Church Secretary, her husband (the church organist), two of my wife's aunts and two of her cousins in the square at Shipston-On-Stour with a view to going on a tour of Honington guided by the Church Secretary. While we were waiting for the others to turn up my wife saw a very nice jacket in the window of a clothes shop but we did not have time to investigate it any further as the other party members arrived.
We had coffee in Shipston and off we all went to Honington. We had a wonderful day and the Church Secretary was able to show us all the BATCHELOR residences, the school that they attended and the Church. The camera was red hot!! We all said our goodbyes and went our various ways.
My wife asked if we could go back via Shipston and have a look at the jacket that we had seen in the shop window. At the shop the jacket was a perfect fit and looked really nice. My wife toddled off with the assistant, deeper into the shop to pay the bill. The owner of the shop engaged me in conversation and said that she had noticed our little gang in the square earlier in the day and wondered what we were doing. I told her that we were researching family history and she asked what the surname was. When I told her she said "The lady serving your wife is a BATCHELOR!!"
Now one of the dominant Christian names in the BATCHELOR family right back to 1633 was Phineas, not a very common name and a great help when it came to researching. Well the husband of the shop assistant was named Philip Phineas BATCHELOR and his father had been Phineas Philip BATCHELOR!! You could have brought out the proverbial feather to knock us down with!! I was able to give her a photo copy of the tree and I believe when she got home her husband did a little jig.
David Ware.
Subject: Laughing their celetrial socks off....
I've recently made "first" contact with a 3rd cousin and she in turn introduced me, via email, to another close relative, also my 3rd cousin. A couple of emails later we discovered that the second lady had attended school with my mother, gone to art classes with my grandmother, and her husband worked with my uncle. None of them had any idea they were related.
When I moved to Wiltshire 20 years ago I was certain that none of my ancestors had come from this county. Of course now I know different and am tracing two unrelated lines here.
Marion in Wiltshire
Subject: Laughing their celetrial socks off....
Iris Green wrote "
I just LOVE these stories about past/present coincidences - if that's what they are...Really makes one wonder about reincarnation, synchronicity, etc.. Any more, please?"
Hi Iris, I loved them too!
My coincidence is as follows!
A few years ago a near neighbour moved to Cornwall and we kept in touch at CHristmas time, sending the usual letter that covers a years activities. This past year I happened to mention I had started to look into my family tree and that my mother had hailed from the area in Cornwall that they now lived in.
Very quickly I received a letter back asking for my mothers maiden name. This time I emailed them and again had a quick response. Did I know that my mother s uncle had owned the house they were now living in?
Well, no I didn't! But getting marriage certificates, etc. found that she had indeed married from the house that our neighbours now live in. The coincidences did not stop there!
The same neighbours then found out more information for me, discovering living relatives from Mum's family just nearby. I have been in contact with these cousins and have since learnt all sorts of interesting information. The family had been millers originally and lived in mills in the area.
The strangest thing of all was that just recently when the neighbour's husband was wrapping some pots in old newspapers he discovered an interesting property for sale, it was a mill situated where my ancestors had once lived, possibly the VERY mill that they lived in!! I have to find out about that for certain.
Visiting the estate agents website I found the property in question and looked at the details. It would have suited my husband and to retire there so I enquired about it, after all such a coincidence must surely point to the fact that we were MEANT to retire there.
Unfortunately however the property was already under offer (sigh)
But you can imagine the very strange feelings I had when I found all this out!
Who knows what might happen next! We are travelling down to visit the new cousins and our friends next week so....
Take care,
Cathy Cripps
Subject: Laughing etc......
My story pertains to Arnos Vale Cemetery. Anyone from Bristol will know all about the state of disrepair and the efforts by the City to rectify the problems out there.
My brother and sister were buried there in the 1920's. When my Mother died in 1978 I had her ashes interred with the children - as per her wish. I had emigrated to Canada with my own family in 1965 and altho' I visited for two weeks every year there never seemed to be time to check out the grave.
My Father had another stroke in 1992 and I flew out for the UK that day, together with my son. Dad recovered somewhat and when Terry asked me to take him to the grave, we rented a car and off we went. I should add that he remembered us making a days trip to clean it up once in a while when he was a child (by then we had moved away), but he had no idea where it was.
I was in shock when I headed down the path we had always used - it vanished after 100 yds and it was like trying to walk thru' Borneo. I thought I had eventually found the correct area but as it was so overgrown I could not be positive. There had never been an upright stone, only a stone vase with their names inscribed. We spent a couple of hours wandering around - me trying to get bearings in my minds eye and Terry kicking at hummocks and pulling out chunks of dirt and grass.
To cut a frustrating story short I had finally had enough and suggested we left - he said "I really want to find this" and wouldn't budge. I stood and watched him and mentally said to Mum - "For goodness sake help me out Mum or we shall be here all day." You can guess what happened - the next hump he kicked did not budge so he started pulling the grass away and there was the vase.
He had always been her favourite grandchild so I felt that was her gift to him, and indirectly to me as it meant we could then head back to the hospital. I later removed the vase for safe keeping.
Maureen Carroll
Subject: My by chance re Family History
Hi Josephine and Everyone
I became involved in family history because when my Nan died aged nearly 101 I found a letter written to Grandpa. It was written by a girl who lived in California who had just got married and she explained she was the grand-daughter of my Grandpa's brother. This letter had been written 25+ years before, as a child I thought I recalled Grandpa had a brother somewhere in America but the family thought he had been killed in WW1, (I imagined a rich Texan Oil Billionaire!).
At the time my Grandpa was ill so I suspected he would not have replied to her so I wrote to the girl at the address given explaining who I was - six months later she telephoned me. The address I wrote to her and her husband had lived in a rented apartment, they had since divorced and the husband now owned the apartment block. My letter arrived there and one of the tenants kept it until seeing the ex-husband who gave it to their daughter for his ex-wife - the rest is history as they say.
Cynthia and her Mum came to visit us and asked about the OSMOND family and where did they come from. Great-Gran died when I was 12 so I remember her behind the counter of her shop in Oakfield Place, Clifton and also remember the huge brass engraved tills she used. I knew she was buried at Canford Cemetery, Westbury-on-Trym so I telephoned them and they told me where to find her grave. Imagine my American cousins seeing the grave complete with engraved headstone.Did we talk about family history years ago - no, but from distant childhood memory I thought Great-Gran had been a teacher in Chew Magna.
So after Canford we headed for Chew Magna and went into the Post Office to ask where the school was and if they had heard of my Great-Grandmothers name. No, they hadn't but told me where the school was. Go through St Andrews Church yard, across the stream and the school is on the right.
As we were about to leave the post office I noticed a book for sale about Chew Magna 'Chew Magna and the Chew Valley in old photographs by Ian and Mary Durham. ISBN 1 872971 61 X Redcliffe Press, Bristol. I opened the book on page 75 and there was a photograph of the Roll of Honour 1916 written by the local shopkeeper Mr Hutchins who had written up the names of the village men who had enlisted to go to war (WW1) imagine my shock seeing my Grandfathers name there. Needless to say we all bought copies.
We entered the churchyard and first marble headstone we saw were of various OSMOND's, I have since discovered they are my Great-Uncle and family. While we were busy taking photo's a lady passed by and said she helped the vicar and did we need any help, we explained out Mission (as it was now), she said she used to teach in the primary school but had not heard of GGran but she would take us there and introduce us to the headmistress.
The headmistress got out the books the children had put together for the Millennium containing old photo's etc. I opened the book randomly and there was a photo of GGran along with the school children c1882/4. The school log book was brought out and there was the entry for my Grandfather and his brothers and sisters. The last child only had GGran as the parent so that gave me a date for the death of GGrandfather. Also there was a report by the headmaster about my GGran as a Pupil Teacher and when she became a qualified teacher. We sat there on little tiny school chairs where I did feel strange knowing Grandpa had sat there before all those years ago.
I could go on and on, how I found a book written by the WI in Alberta, Canada which told about my Grandparents and family farming the prairies in the pioneering days with photos of them and my Mum as a child and I have since managed to find a copy of the book in a bookshop in British Columbia - but I expect you are bored already.
Best Wishes
Kathrine Gildersleeve
Subject: Laughing their celetrial socks off....
About three years ago we left our home in Grimsby, Lincs to travel down to Molland in Devon to research my COCKRAM ancestors there.
We were stunned to find Molland Graveyard contained about 30 tombstones with this surname. Especially so when we found a small half sized tombstone two feet from the church facing the wrong way, it was my 5 X Gt Grandparents, , John COCKRAM and Ann FISHER.
The church was open and supurb, containing about 40 high horse box pews, a triple canopied pulpit, but best of all two old documents had been framed and displayed. They were printed documents with the names filled in in ink. John COCKRAM (bapt 29 June 1749 Molland) and Mr Wilkins, had been ordered to remove the sick and infirm to place of safety should the enemy invade during the Napoleonic wars. The second document was similar but saying they had to remove livestock to a safe place, so they could not be used as food by the enemy.
We were rather stunned by all this, everything recorded on film.
Molland is an old coaching pub, a few cottages and the church. One cottage had a small shop in its front room, so went in to see if they had postcards of the village. I passed a lady on the path, we exchanged good mornings.
I told the shop keeper why we were there, she said "Oh , you have just missed Mrs COCKRAM", I explained I had just passed the time of day with her. The shopkeeper said she lives in the next cottage, she would love you to visit her.
I said said i would wait in the car, whilst my wife knocked at the door, but within five minutes I was in Mr and Mrs COCKRAMS kitchen having a cup of tea. They explained they had recently retired into this cottage, having been farmers at Bridgehayne Farm. We were godsmacked. My 4 x Gt Grandfather had farmed this farm. I was able to give the COCKRAMS a copy of Philip COCKRAMS will, they were astounded, they had no idea when they bought the farm, it had been owned by an ancestor of theirs. A very exciting day.
A while before this visit took place we had solved a mystery in the COCKRAM family, with the help of another researcher. We knew William COCKRAM had been born to a Mary LAKE Iin 1814 in Molland. Seven years later Mary had married Francis COCKRAM, we wrongly assumed Francis had fathered William, but took a lot of getting to the alter.. How wrong we were. A fellow researcher sent us the will of Philip COCKRAM, he was a bachelor and owned Bridgehayne Farm, when he died in 1827 he willed the farm to his natural born son,William Cockram LAKE who's mother is Mary Lake, now married to my brother Francis COCKRAM. This explained everything.
Never give up, sorry this is a long story, but one of family histories wonderful surprises.
Vernon Cook, Grimsby Lincs
Subject: Coincidences
Coincidences have played such an enormous part in opening up my brick walls. Some 8 years ago after having found the names of the 9 children of my Ggrandparents, Meshach and Sarah THOMAS, who immigrated to Australia in 1850 (he, regrettably having died during the 6-month voyage) the time had come to try and find their Gloucestershire families.
The only vague clue I found was a marriage for a Shadrach with Meshach and Mary THOMAS as witnesses in Almondsbury. I employed a researcher with no result and decided in October to join the Gloucestershire Family History Society. I did not realise their subscription year began 1st April. My expression of interest was not published prior to my subscription expiring and they published in the first of the next year. How lucky, as a lady from Pewsey joined and this was her first magazine (she had the rest of the family and was searching for Meshach, the only one of his generation to immigrate). So began a wonderful friendship and reason to travel and to finding and meeting descendents throughout Wales, U.K., Canada and many descendents of my grandfather's 22 children here in Australia.
My Grandmother was born Elizabeth PURNELL (mar STOCK from Westbury/Weston-Super-Mare), so having joined the Bristol & Somerset Rootsweb imagine my surprise one day when a request came up if any lister was searching Thomas and Amelia PURNELL of Weston SM. As this was grandmother's brother and sister-in-law, I immediately responded.
A phone call in response to my reply made me the recipient of 6 photographs. She had bought them some 10 years previous at Ye Olde Junk Shop in outback Queensland simply because they had names on the back and had recently found them during a rummage clean up. Studio Photos of this couple and other family members. Imagine not only my delight but we are still through the generations in contact with their descendents.
My paternal side are Irish from Counties Tipperary & Kerry and anyone with these connections know how difficult they are to research. I had extracted many entries with the same known names, just in case. Some years ago I met my daughter, who was visiting Melbourne for the day, and suggested as we were in the area we look at the family home of my father (where he had lived in back in the 1920s). There was a For Sale Board on the front and stated that "This house has been in this family for 70 years and is now for sale." On open day I attended and looked at the Title and found that it had been owned by a retired Policeman who came originally from the Irish Constabulary and in fact had been married to my Grandmother's Aunt. Their 5 sons had not survived and the house had been bequeathed to my Uncle who died in 1927 before his only child was born and the house sold by his widow.
Coincidences: just 3 that have aided and abetted in opening up my brick walls.
Patricia Gundish., Melbourne Australia
Subject: Laughing their celestial cotton socks off
Here's a coincidence from Australia for your fantastic collection.
When my nephew was born in 1986 my sister called him Morgan Thomas.
When I visited my great Aunty in Melbourne from Cairns not long after, she said she thought Morgan was the name of her grandad and went to consult some papers she had. Yes, she said, 'Morgan is right'. I wasn't interested in family history then and have kicked myself over and over for not investigating the said papers further at the time.
On returning to the aboriginal community where I worked as a nurse I was one day transcribing the old BDM register into a bigger spread sheet type book so that all the relevant info could fit on one line per person when I came across the birth of an aboriginal child in Normanton in early 1850s with the father named Morgan Dorman.
There were not a lot of Dormans around then and only one Morgan Dorman. Morgan James Dorman was born 21 Sep 1832, St Georges, Hanover Square, London, to Stephen Dorman & Mary Ann Waters (Whitelock). He and his brother Stephen migrated to Australia in their late teens I think (as no shipping records have been found). Stephen was a licenced victualler and Morgan a carpenter.
It seems as though Morgan did quite a bit of travelling before settling down in Ballarat, and I met his gg granddaughter before she passed away.
I have been fostering her g granddaughter since she was born nearly 20 years ago. She now has 2 little girls. I've been 'adopted' by many of my cousins families and they are always very interested to hear about any new info I find.
It's a shame it is so hard to research the aboriginal side of my family but I do know where my book is. When we get back to the community I'll have to do the lot on paper before it gets forgotten, what a task.
But for me to get sent to work at the exact same place as the family of my gg granpa, what are the odds??
I might add that they all knew about him and one of the boys was named Christopher Morgan after him, but they thought he was aboriginal till I discovered where he was from. 'Oh, Ye??' was all they said!!
Cheers. Anne from Cairns, Australia.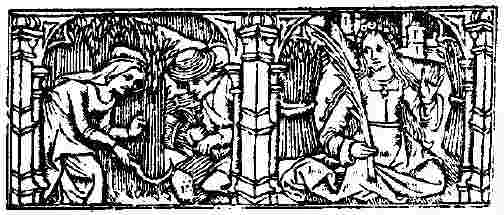 Images on this page courtesy of Medieval Woodcuts Clipart Collection