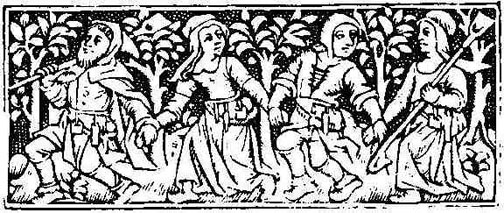 Our Fellow Researchers
Here is a list of researchers with families from Bitton. Click on the family names within their entries to link to the family page.
Please
Contact Us
with details of your Family interests if you would like to be included in this list
Adrian
ballard1@blueyonder.co.uk
WWW.BALLARDGEN.COM
Seeking
BALLARD
s Everywhere
Anthony
bushtelegraph@btopenworld.com
Anthony is researching his BUSH family of London, known to descend from a James
BUSH
(abt 1739-1816), Bristol Burgess. He's recently learned that James was bap 1703 Bitton, a s/o George and Susannah and is trying to learn more of this branch of the Bitton-area family.
Bob
mail@bobwilmott.com
Bob is researching his
WILMOTT
(and variants) ancestors of Bitton and surrounding areas in and before the 1600s.
Brian
brian.morgan9@btinternet.com
Website: Morgan, Hopes, Cook, Sanders, Woodhouse, Gully & Gulwell
The
HOPES/HOPE
(informal local one-name study), ROSE, LEGG and HARDING ancestors are documented in Bitton, Upton Cheyney, GLS and North Stoke, SOM back to the early 1700s. Please select the link to my website to see the many additional details including the definitive famous JOHN GULLY b 1783, pugilist, Derby winner, industrialist and MP, JOHN GULLY the New Zealand painter, the 'rank and file'
GULLY/GULLEY
family, as well as CHAMBERS, COOK, ETTLES, FARR, FISHLOCK, GAY, GLEED, MORGAN, and WHITE.
Caroline
caroline.saunders2@virgin.net
I have several family links to Bitton parish. Some of the names taken from my family tree who lived in the area are:
BROWN
, JOHNSON, COOL(E), POOL(E),
NICHOLS
, GOOD, OSBORNE, HATHAWAY, HENDY,
BATEMAN
, & HUNTER. I have parish entries and census records.
Carolyn
cbroome@ncable.net.au
Carolyn is researching her
BRYANT
and
ILES
families of Oldland and Bitton.
Chris
chris.jefferies@blueyounder.co.uk
FLOOK
is my only surname with a direct connection to Bitton. Other Bristol surnames of direct descendents are JEFFERIES in Siston and Mangotsfield, LOVELL in Staple Hill, COX in Mangotsfield & St George, WOODINGTON in St George, and ROGERS in Pucklechurch.
Clare
Clare researched, but is no longer actively reseearching,
WILLIAMS
families of Bitton, Oldland, Keynsham, Kingswood, Saltford and Bristol. Also researched local Brass Works and Brassworkers. My husbands ancestor, Joseph WILLIAMS, was a "Roller in the Brass Works" who lived and worked around Bitton and Saltford between 1802 and 1842. She believed Joseph (b. abt 1776?) is related to the other WILLIAMS brassworkers found in the local area, and was trying to make the connection to Joseph's parents.
Daphne
djmccart@dodo.com.au
I live in Australia and I'm researching
WILMOTT
(WILLMOTT, WILMOT) and
MEAD
families in Bitton. My information so far has come from census returns.
David
davidobrey@blueyonder.co.uk
David's Oliver John
THOMPSON
, is of the Publow family that was part of the migration to Selly Oak, WOR (now WAR)
Emma
emmapalmer (at) blueyonder (dot) co (dot) uk
Emma is researching her
PALMER
family.
Graham
graham@prattens.com
www.prattens.co.uk/families/pratten/start.html
www.prattens.co.uk/families/fry/start.html
www.prattens.co.uk/families/jones/start.html
My research on PRATTEN, FRY and JONES of Bitton is shown on the above website links.
Hugh
hughw36.blogspot.com
(news about genealogy)
His LAPHAM one name study can be found at
http://wc.rootsweb.com/cgi-bin/igm.cgi?&db=lapham
Hugh died in December 2009. As of February 2011, his blogspot and one name study links were still active. He researched the
LAPHAM
family in Bitton, Bath and elsewhere.
Ian
moosan@chariot.net.au
My direct
GULLY
family came from Oldland, Longwell Green and Willsbridge and I would be happy to share what I know of the family both in Bitton and here in Adelaide, South Australia, where they settled in 1857. I know of other Bitton Gully descendants here in Australia who would also be interested.
James
blorenge@btinternet.com
I am researching the following families in the Bitton area - OLLIS, HOLCOMBE/OAKHAM,
WILMOTT
,
LONG
,
STONE
,
BRYANT
,
HARRIS
, BROWN, PEACOCK,
BRAIN
and PANELL. The OLLIS and WILMOTT families are my main research interests and I am always looking for more evidence for and information about the origins of the various immigrant brassworking families (including the OLLIS family) as it has not yet been properly established from where they came or precisely when.
Jo
jo.baker@talktalk.net
Jo is a member of the
THOMPSON
families from Bitton, Publow, Newland, via 1805 Hannah THOMPSON, d/o cousins Sumption/Nancy.
Joan
maurice@cita.fsnet.co.uk
Joan, born in Chippenham, Wiltshire, was a SARGENT, dau of Christopher & Eva nee ELLIS. Her father was one of twins born in Madison, Wisconson, USA. Her area names are
LEONARD
,
SARGENT
and
WEBB
.
John Crates
chresource@aol.com
John maintains records of
CRATES
worldwide and has a network of fellow researchers all with an interest in, or connection with, the CRATES name, and is always ready to help persons who find they have links to CRATES in the past. His objective is to try to connect the several Crates families living around Bristol in the 1700s, most of whom were brassworkers; also researching
LOVELL
of Bitton and Mangotsfield.
John Farthing
johfrthng@aol.com
John is researching his
BUSH
and
HAINS
families from Bitton and
BAGGRIDGE
from neighboring Siston, who migrated to Skewen Near Neath, Wales, apparently following the copper industry. He's also interested in the copper industry, because of the history of brass, zinc and copper processing in the Bitton / Siston area.
Josephine
Josephine researched, but is no longer actively researching, the
BRIGHT
,
GREEN
, and
NICHOLLS
families of Bitton, and the
GULLY
,
HAYMAN
,
HANCOCK
,
JEFFERIES
,
ROGERS
and
SPICER
families of Oldland/ Longwell Green. She also researched the
ROGERS
and
BRYANT
families of Hanham.
Ken

khbreedon@hotmail.com
Ken is a member of the growing
THOMPSON
family from Newland to Bitton and Publow, via 1846 William Henry/Rachel (nee LEWIS).
Kim

kimwillis@blueyonder.co.uk
I have been researching the name
BARNES
from Long Ashton. I have acquired several wills relating to the Barnes family at Bitton as I wondered if there was a connection to my family.
Kirk

littlemead6@yahoo.com
I am trying to learn where my GGGgfather, Thomas
BUSH
, (1799 - 1842, Portsmouth) came from. Research to date suggests he may have had origins in Wiltshire. I can also be contacted for information regarding Bushes in Bradford on Avon, Wilts and Portsmouth, Hants, as well as the Bush aka Deulwyn connections to medieval pedigrees of Wales.
Leah

leahdunc@iinet.net.au
Leah is researching several families:
HYDEN/HAYDEN
- Bitton, Upton; LINTERN - Bitton, Upton Cheyney;
BRIGHT
- Cold Ashton;
BRAIN
- Bitton;
PARSONS
- Bitton, Publow; LEE - Bitton, Siston; CRYER - Bitton.
Lee

Lee died in March 2010. She researched the CLARK, DERRICK,
FRANKHAM
, SHALLARD, and FOWLER families, mostly in Keynsham, 1640s-1830s, with some of those families having early connections in Bitton. She also looked into the early history of the Brassworkers, from around 1700, and the Keynsham Baptist Church, from around 1800. Her ancestors, John CLARK (1782-1844), a basketmaker, and his wife Hannah DERRICK, were among the original members of that church in 1807. Hannah's ancestors were brassworkers and steelmakers.
Les

progman@ntlworld.com
http://www.one-name.org/profiles/bush.html
Les is researching his
BUSH
family, the earliest being abt 1785 James, b Bristol per censuses. He is also conducting a One Name study on the name BUSH, which you can access via the GOONS link above.
Leon

leon.knapper1@btinternet.com
Leon is researching his
BUSH
family from Bitton. Associated Bitton names are
TORRANCE
and HICKS
Linda

hurle99@hotmail.com
Linda is researching her
BRITON/BRITTON
families from Bitton/Kingswood.
Lindsay
lindsay.olds@tiscali.co.uk
olds@screaming.net
I am primarily researching the
OLDS
family of Bitton, Oldland and Hanham who were originally from Stapleton.
I'm also interested in LEWTON, PATT, BURCHILL,
FRANCOMB
,
SUMPTION
,
BRIGHT
and JELF.
Liz

eagoodlife@ozemail.com.au
I'd welcome contact from any of you researching the
COATES
of Stanton Drew.
Margaret
margtodd@xtra.co.nz
Margaret's Mary Thompson LEWIS migrated to New Zealand. Her Bitton families are:
LEWIS
,
NAISH
,
THOMPSON
Marion
lowe.marion@gmail.com
Marion has been researching the
CATER
family for many years.
Mark
http://www.geocities.com/gracefiles/
My current email will vary, but is always updated on my webpage. This is a gateway to my various web pages including genealogy where each family has a separate page. Family trees and all data I have can be downloaded directly from each webpage. I have been researching for nearly 30 years and have collected all references for a number of Bitton families as informal One Name Studies.
Family names:
BATEMAN
/BATMAN/BATTMAN(Local ONS),
BRAIN
,
BUSH
, GARLAND(Local ONS),
HARRIS
,HASKINS, HIGGS, LEGG, MAYNARD, MONKS(Local ONS), OSBORNE(Local ONS), PHIPPS(Local ONS),
ROGERS
,WILCOX
Marsha
stringer@mstringer.net
www.bittonfamilies.com
Marsha's families are documented in Bitton and surrounding areas from the early 1700s onward. Her direct names are:
BERTRAM
,
BUTLER
,
BUSH/BUSHE
,
COATES
,
COSTER
,
EATON
,
ENGLAND
,
LEWIS
,
MEERE
,
NAISH
,
PAYNTER
,
SUMPTION
,
THOMPSON
. Associated names are:
BRIGHT
,
CATER
,
HIGNELL
Please visit the name pages for additional information.
You may also contact Marsha for the families of Roy, who passed away before we completed this project. His grandparents, Mary Jane
MEERE
and George
KIBBLE
, married 1877 in Walcot, Bath, Somerset. The KIBBLE name originated around North Cerney in Gloucestershire. Connected names:
PASSMORE
, SHILLARD, HABGOOD, PARKER. These names range from Bitton, Nth. Cerney to Chippenham in Wiltshire.
Martin
martin305@blueyonder.co.uk
Martin is researching the THOMPSONS that moved to Birmingham by 1861 to continue working in copper. Researching:
BUSH/BUSH
,
COSTER
, FLOWER,
MEERE
, PENNY,
THOMPSON
and YENDALL (in Somerset, Devon and Bham, and included on pages for:
BUTLER
,
CATER
,
COATES
,
ENGLAND
,
PAYNTER
,
SUMPTION
. Also interested in all aspects of the copper industry in the Bristol and Birmingham areas, especially Elliots Metals in Selly Oak.
Matt
matt@o-donnell.net
Matt submitted photos of the Tollhouse at Stanton Drew from the 1930s, when his Ggrandfather, Frederick
RICH
lived there. He's interested in learning more about the Tollhouse, his RICH family and the JS Fry & Son Company, where Frederick worked for over 40 years.
Maureen
maureen@clarem9.freeserve.co.uk
Maureen is researching her
JEFFERIES
family of Bitton, the earliest of which are Josiah and Maria b. about 1790.
Meghan
mmyres@rogers.com
Meghan is a descendant of the
BRAIN
family of Bitton, and is researching Gloucestershire and Welsh BRAINs.
Michael
michael.tarry@needhamhaddrell.com
Michael is the great grandson of Sidney Thomas
BUSH
, who ran the Upton Inn at Upton Cheyney during the first half of the 20th Century. His Great Great grandparents, Sidney and Selina BUSH, ran the Union Inn, Oldland during the late 19th Century. So far Michael has traced his line back to Samuel BUSH, blacksmith who d. 1809 and m. Rachel
NAISH
in 1766 in Bitton. Any information regarding Samuel's parents would be most welcome.
Michael's line links to the
THOMPSON
family in Bitton by the marriage of Samuel's son, John BUSH (abt 1767 - 1823) to Mary THOMPSON in 1793, Bitton."
Michelle
chell444@aol.com
Michelle is researching the
PARKER
family of Bitton and the surrounding areas beginning with the late 1600s. The names associated with her research are:
BUSH
,
BUTLER
, CLARKE, SMALLCOMBE, WHITTINGTON.
Nancy
nfrey@auracom.com
Nancy is researching her DAVIDGE connections to
ILES
and
SHORT
of Bitton.
Nick
clark_nr@btinternet.com
Nick is researching several local families:
BUSH
,
BUTLER
,
COSTER
,
SUMPTION
, and
THOMPSON
. He's also interested in information about the copper industry in the Bristol area.
Pat
pat@pathase.demon.co.uk
Pat's families were in Bitton and the surrounding district throughout the 18th and 19th centuries and maybe before. She has most information about the
LONG
and
SHORT
families. Her main interests are:
BRYANT
, BURCHELL, HARDING,
HARRIS
, HAYNES, JARRET,
LONG
,
PRIGG
,
SHORT
, SHILL. Additional contacts with Publow and Pensford bring in the following names: BAILEY, COLES, GULLICK, SAUNDERS,
WILLIAMS
, WILLIAMSON.
Peggy
peggy.goodger@tiscali.co.uk
Peggy is trying to help a friend with their ancestry and has now reached Bitton. She is looking for any information on the names:
BURCHILL
,
JEFFERIES
, PALMER and
PAYNE
.
Paul
Paul-brookman@hotmail.co.uk
Paul is researching his
BROOKMAN
family, from Churchill, Stock, Burrington, Somerset, documented in Bitton in the 1871 Census and later in Bristol. Associated families are GODFREY and VOWLES.
Reg
rj.harris@ntlworld.com
The names from the family history of my wife and I which I have done most research on from, say, 1800 to date are :
HARRIS
,
JEFFERIES
,
BATEMAN
,
WILLIS
,
MILSOM
,
WEST
,
BRITON
,
BUSH
,
FUDGE
,
BARNES
,
STONE
,
ANDREWS
. On some of these names I have got back to the late 1500s.
Rhonda
Ferntorp@bigpond.com
Rhonda is trying to identify her Isaac
YOUNG
and Jane, nee PERRY, who immigrated from Publow to Australia in 1850.
Richard
cuddrm@bp.com
Richard's Anna Maria Charlotte
THOMPSON
, is of the Publow family that was part of the migration to Selly Oak, WOR (now WAR)
Richard Sweet
r.sweet@ntlworld.com
Richard is researching his
SWEET
family from Bitton. Associated names are
BRAYNE
and
NICHOLLS
Rosemary
randjak@talktalk.net
Rosemary has been researching the
BUSH/BUSHE
family, particularly the branch of the family that was active in Alveston. Some associated names are:
BERTRAM
,
COATES
,
ENGLAND
,
PAYNTER
Sarah
sarah.h.wright@btinternet.com
Sarah has been researching her husband's
BUSH/BUSHE
family for many years and now has a database of several thousand Bushes who lived and worked in the Somerset/Wilts/Glouc area from the 1400's onwards. Her names include: BENNETT,
BERTRAM
,
BUSH/BUSHE
,
COATES
,
ENGLAND
, JAMES (of Bristol),
PAYNTER
.
Sue
sue.easter@btinternet.com
The main names I am researching are PACKER, GARLAND,
YOUNG
, HOPES,
SUMPTION
,
OLD/OLDS
, NURSE, FRANCOMB and FOX.
Tim
Tim researched, but is no longer actiely researching, the ancestors and siblings of his great-grandfather William
BRYANT
, born 1850 in St. George, married Anne MOSS in 1875, and migrated to the U.S.A. in 1880. Tim is also interested in the siblings of William BRYANT and Anne MOSS, as well as the associated MILSOM and JENKINS families.
Wayne
barratay-at-bigpond.net.au
Wayne is researching the
YOUNG
family from Bitton.
Image at top of this page; Peasants frolicking, c. 1506.

Courtesy of Medieval Woodcuts Clipart Collection