Keynsham Brass Mill circa 1870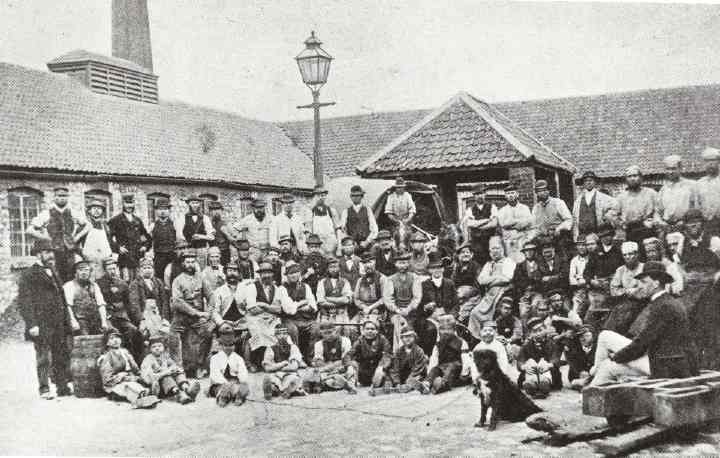 Keynsham Brass Mill personnel circa 1870.
This photograph of Keynsham Brassworkers in their working attire, includes men from several of our known families and can be seen in many books on the local area. It can also be seen, along with other pictures, in Joan Day's
"Bristol Brass: The History of the Industry" (1973)
, which contains extensive information on the local brass industry, including the mills at Keynsham and Saltford.
"Around Keynsham and Saltford in Old Photographs"
by Barbara Lowe & Tony Brown 1988, names the men in the photo as follows:

"Back row, left to right:
William OLLIS, Rufus WILLIAMS, John FRANKHAM, Robert WILLIAMS, Edwin FRAY, an engine driver, two Cornishmen (here to build the annealing tower), William VEALE, -?-, James VEALE, James WILLIAMS, George GREGORY, 'Jarman" OLLIS, Simpson PARSONS, Samuel SAUNDERS, Thomas SHORTMAN sen., Thomas VEALE
Second row:
Mr. ROBERTS, Isaac SHEPPARD sen., EVANS, Thomas REED, -?-, Henry STEAGER, Charles CARPENTER, Thomas HARDY, James SHORTMAN, Edward WILLIAMS, George WHITE, Robert HEADINGTON, Francis SMITH, Samuel SHEPPARD, Charles WEBB, William KRINTZ, Samuel WELLINGTON, James TAYLOR, Isaac SHEPPARD, Henry FOX, -?-, -?-, John HODGE
Third row (sitting):
Joseph WITHEY, Richard ROBERTS, Thomas EVANS, Samuel WILLIAMS, William EVANS, Charles Gane, Walter BRAY, Jonas HICKS, -?-, Eli VEALE, Aaron JARRETT
Front row:
James FORD, -?-, Samuel JARRETT, William BEES, Henry EVANS, George FRANKHAM, -?-, Albert EXON, Henry GILES, -?-, -?-, Albert SINCOCK."
A slightly different ordering of the names is given in
"Keynsham in old picture postcards" (1983)
by Barbara Lowe and Members of the Keynsham and Saltford Local History Society. This is useful for double checking when trying to positively locate men in the middle rows of the picture. There are also a few extra names given.

"Here we see personnel of Keynsham Brass Mills about 1870."
The back row, left to right shows:
W.C. OLLIS, R. WILLIAMS, J. FRANKHAM, R. WILLIAMS, E. FRAY, Unknown, Unknown, Unknown, W. VEALE, Unknown, J. VEALE, J. WILLIAMS, G. GREGORY, W. OLLIS, S. PARSONS, S. SAUNDERS, T. SHORTMAN and T. VEALE.
Middle section, left to right, shows:
ROBERTS, I. SHEPPARD, EVANS, T. REED, Unknown, J. WITHEY, H. STEAGER, R. ROBERTS, C. WELLINGTON, T. EVANS, C. CARPENTER, T. HARDY, S. WILIAMS, J. SHORTMAN, W. EVANS, E. WILLIAMS, G. CHARLES, G. WHITE, W. BRAY, R. HEADINGTON, J. HICKS, F. SMITH, S. SHEPPARD, C. WEBB, W, KRINTZ, S. WELLINTON, J. TAYLOR, I. SHEPPARD, H. FOX, Unknown, Unknown and J. HODGE
Front row, left to right, shows:
J. FORD, Unknown, S. JARRETT, W. BEES, H. EVANS, G. FRANKHAM, Unknown, A. EXON, H. GILES, Unknown, E. VEALE, Unknown, Unknown, A. JARRETT and A. SINCOCK.
Keynsham Brass Mill Workers List 1851
Some of the men from the 1870 photograph also appear on this list of Brassworkers in 1851, along with other family members who had retired by the time the photo was taken.
This list is taken from 1851 census data for Keynsham, compiled and analysed by Michael. C. Fitter and presented in his book "Keynsham in Grandfathers Day" (Ammonite Press, Keynsham 1994).
Some of the men can be verified at home in Gordon Beavingtons 1851 census transcription of Keynsham, some ages may differ with transcription. We advise you to verify any information for yourself.
There are also other local Brassworkers who do not appear on this list, but who can be found in the 1851 census in surrounding areas, as well as in the 1870 photograph. For instance, Samuel Williams of Saltford is one of the men in the photo. You can see his 1851 census details on our Kelston Mill page, along with the other families living in Brass Mill Lane, on the Avon river at Saltford/Kelston.
The Keynsham Brass Mill Industry in 1851
Names, Ages, and Forms of Employment
Name
Age
Form of Employment
Rich BROOKMAN
57
BW
Isaac BUCK
70
WW
Jos. CARPENTER
67
WD
Thos. CARPENTER
65
DW
Jos. CARPENTER
60
BW
Chas. CARPENTER
23
WD
J'thon CARPENTER
33
WD
Thos. EVANS
37
WD
Wm. FRANKHAM
51
BW
Geo. FRANKHAM
25
BW
Wm. FRANKHAM*
18
BW
Luke FRAY*
57
WW
Jon. FRAY*
62
WD
Chas. FRAY*
30
BW
Wm. FRAY*
21
BTM
Edw. FRAY*
18
BW
John FRAY*
17
BW
Geo. FRAY
15
BW
David FRAY
12
BW
John GILES
40
BW
Thos. GREEN
41
BTM
Jos. GREGORY
29
BBM
Thos. HALL
49
WD
Wm. C. HARPER
51
BW
Wm. C. HARPER
14
BW
J. Martin HARPER
12
BW
Jos. HUDSON
77
WW
Wm. KRINKS*
68
BW
Wm. KRINKS*
16
BW
Danl. KRINKS*
46
Brass Turner
Jos. MALPAS
59
BW
Jon. MARTIN
56
Brass Caster
Mathew MONKS
81
Brass Founder
Rich. MORTIMER
55
Brass Manufacturer
Edw. N. MORTIMER
28
Brass Manufacturer
Jos. OLLIS*
80
Retd. Brass Neater
Nicholas OLLIS*
75
BW
Wm. OLLIS*
48
BW
Chas. OLLIS*
40
BBM
Wm. OLLIS*
24
BW
Abel OLLIS*
15
BW
John OLLIS*
14
BW
Geo. REED
55
BW
Geo REED
29
BW
Ischar SHEPPARD
61
Brass Roller
Robt. SHEPPARD
46
Brass Roller
Saml. SHEPPARD
46
WD
John H. SHEPPARD
18
WD
Edw. M. SHEPPARD
17
WD
Franoin SMITH
48
WD
Frank SMITH
15
BW
Robt. SHORTMAN
42
Brass Maiter?
Jos. WELINGTON
28
BW
Saml. WELLINGTON
28
WD
Robt. WILLIAMS
46
BW
Edw. WILLIAMS
18
WD
*Descendants of the original skilled Dutch workers - early 18th century
BW
Brass Worker
BTM
Brass Tube Maker
BBM
Brass Battery Man
WW
Wire Worker
WD
Wire Drawer
WH
Wire Roller
Total Number Engaged
56
It is likely that many of those listed above are actually RETIRED even though the Returns do not list them as such. To Assess those actually engaged in 1851 it would be safer to discard those over 64. Say, a total of 50 actually engaged?
Courtesy of Michael. C. Fitter - "Keynsham in Grandfathers Day" (Ammonite Press, Keynsham 1994).
Back to top of page